Water-based flexo printing contribute to environments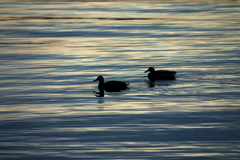 As environmental burden by printing or coating work, organic solvent (VOC) will be the critical. When solvent based ink is dried, VOC will emit in the atmosphere, which is serious problem worldwide. In Flexo printing, to use water-based flexo ink prevents VOC from emitting in the air. Traditionally, we have used water-based flexo ink to print on papers but we have recently developed a printing technology in printing on film and nowoven textile materials in addition.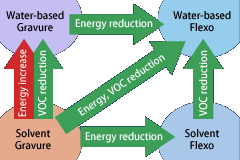 As for the differences between water-based Flexo and water-based gravure, applied ink thickness of water-based gravure is double or more that of water-based flexo, which means, substantial energy is required to dry ink for water-based gravure, leading to environmental burden. On the other hand, Flexo printing needs thin and high density ink and energy in order to dry ink with the constant printing speed.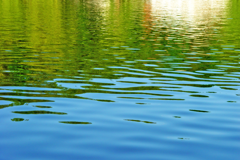 In the revised Air Pollution Control Act in April 1, 2006, emission of volatile organic compound (VOC) has been limited, even if it is still flexible to the existing facilities by March 2010. It is applied to gravure printing machine and rotary offset press. Both the machines bring lots of emission of VOC.
Flexo printing is out of range of the revised Air Pollution Control Act because it brings little VOC in addition to less drying air.
Advantageous of Water-based flexo printing * Excellent in terms of cost.